Two guided walks, the first will begin at 11am, the second at 2pm
See londonmonthofthedead.com for more details and to book your tickets
Tickets £12 including a 20% donation toward a host of restoration projects at West Norwood Cemetery)
Caroline Swan, a London-based historian and author of the Flickering Lamps, will lead two tours as part of the London Month of the Dead festival. ...
Of the 'Magnificent Seven' cemeteries that opened on London's outskirts in the early decades of the nineteenth century, West Norwood, designed by Sir William Tite in 1836, was the most sought-after burial place for the capital's wealthy and illustrious. Businessmen, philanthropists, authors and preachers are among the thousands laid to rest there, including Mrs Beeton author of the legendary Victorian book on household management; Henry Doulton, the founder of pottery firm Royal Doulton; and Henry Tate, who established the Tate Gallery. The cemetery's stunning Greek Orthodox section contains the highest concentration of listed funerary monuments anywhere in Britain.
Caroline Swan's guided walk around West Norwood will explore its Gothic Revival roots, admire its grand monuments and show how it proved to be an inspiration for other cemeteries worldwide.
Caroline writes about the histories behind often-familiar buildings, parks and graveyards.
When: Saturday 15 October 2022 at 11:00am or 2:00pm
Where: West Norwood Cemetery, Norwood Road, West Norwood, London, SE27 9JU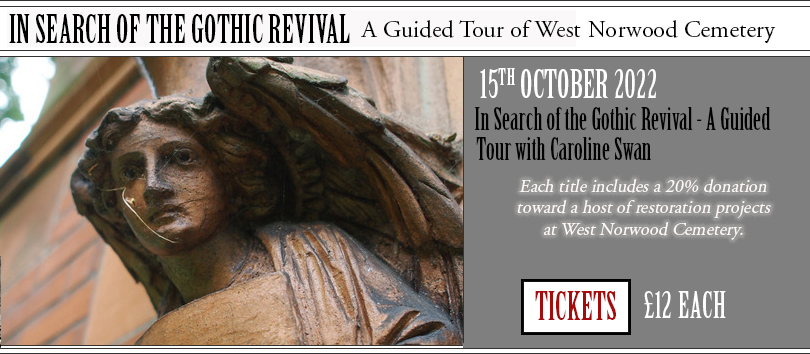 event date:
Saturday, October 15, 2022